Thou Who Follows Blindly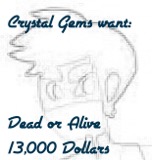 Main Info
Name:
Obsidian
Race:
Gem
Faction:
Homeworld
Distinctive Characteristics:
Obsidian isn't exactly a gem, he's a rock.
Face Claim:
Original Character
Statistical Info
Personality:
Obsidian is hidden from the world. Plagued by relentless fear of his Diamond, he always gives off an aura of not caring for anything in the slightest. Everything around him holds no meaning, except his Diamond, be it a human life or the problems they face during their limited time on earth. Only something that he has never seen in his many years of re-existence could make him truly serious. In doing so, his demeanor would change slightly, giving off a graceful air like one who stands above many, the air of a king. No matter what he is an existence who lives for himself, true to his own feelings and interests.
Gem:
Spoiler:
His obsidian insignia is shaped like a teardrop on his shoulder.
Appearance Info
Height:
6'6"
Weight:
227.87 lbs
Overall Look:
Obsidian is a handsome male gem, though it isn't common for a gem to be male. He has black hair, a gray vest, black pants, leather gloves and leather boots. He has black eyes, gray skin color, and a purplish teardrop-shaped insignia on his shoulder.
Background Info
History:
Obsidian was once a very happy and energetic "child", he would laugh and smile all the time and it was very rare to seem him sad or frowning. However, this all changed around his sixth formation celebration where an unknown man kidnapped Obsidian from the local incubation room for gems to Earth and held him up for ransom in an old abandoned warehouse. While there, he often tried to fight back against his kidnapper but as a result, the man encased him inside an old freezer, padlocking the lid so that he couldn't get out. It was this that caused Obsidian's fear of closed spaces. Obsidian was inside this freezer for a little over a week, but it was too difficult for him to recall as to how long exactly he had been in there. He was given dribbles of water and tiny pieces of bread crumbs that could pass through a small gap of the freezer where he would then have to slurp and lick the water and crumbs off of the bottom of the freezer, though technically, he didn't need it.
The man that kidnapped Obsidian was never found, but on the last night that Obsidian was inside the freezer, he could here an unusual dark chanting from outside the freezer, as if a ritual was being performed all around him... When Obsidian was finally found by the Council of Diamonds, he had fallen into a coma-like state where he spent the next six months in incubation, rehabilitating him to better health... Unfortunately no matter how much rehabilitation and therapy they provided him, Obsidian was never the same again. He became rather quiet and withdrawn, he barely smiled or laughed anymore and instead, had a constant serious, unemotional expression upon his face.
Over the years, Obsidian's gem friends and the authorities came to believe that the ritual Obsidian had heard was just a figment of his imagination or the ritual was one to cause the man who kidnapped him to disappear, so no further investigation was needed. However, it was on Obsidian's twelfth formation that everything started to make sense to him now.
The incubator was never able to understand as to why Obsidian had fallen into a coma-like state and it simply could not be explained than anything other than extreme stress, but it was on his formation that Obsidian managed to put the pieces together... The ritual he heard going on outside the freezer wasn't for the man who kidnapped little Obsi, but Obsidian himself. Ever since he woke up from his coma, Obsidian had always felt unusual and different, as if something had been changed inside of him and not simply due to post traumatic stress, one of these things was his eye color. His eyes were once a normal, navy blue color but ever since waking up from his coma, they had become a black, almost balnd color. The man that kidnapped Obsidian performed a ritual to place Diamond Blood inside of him and on his twelfth formation, Obsidian learned that he could use this Diamond Blood himself...
To this day, Obsidian still has no idea why his kidnapper had done this but over the years he had learned to use it, bending it to his will, to use it to his advantage but also in hopes to help him find the man who kidnapped him. Less than a month ago, Obsidian left home with his Diamond's permission, in hopes to learn to control his abilities better but also to find the man who had done this to him, to ask him why, to get answers. He only answered to his Diamond.
RP Sample:
Worth was walking around Vernus, and sat on a bench. He ate some ice cream and drank a milkshake. He has lots of money, so he bought some for his friends. His friends thanked him and gave him a few jewels. He smiled, and walked around. He noticed a body-shaped shadow on top of the roof. He stared at it, and then suddenly a person appeared on the roof. He was aiming a gun at Worth. He quickly drew his sword and ran to the roof. He stabbed the man aiming at him in the knee and elbow, so he wasn't going anywhere. "Talk." Worth asked in an angry tone. "I'm from Phantom Lord. You're a high stakes bounty." Worth was shocked. "Who put up the bounty?" he asked as he stabbed the man in the chest. "Argh! Some guy named Erigone. Said to take you in dead so he could unlock you, whatever that means." Suddenly, his minion appeared. "He wants to make you a full demon, master. I suggest against this if you want to stay sane." Worth then told the wounded assassin, "Tell him I died to natural causes. If you want to live, that is. I'm usually against fighting, but I'll do it if I get to live." he then sheathed his sword, and jumped off the roof onto a bench.